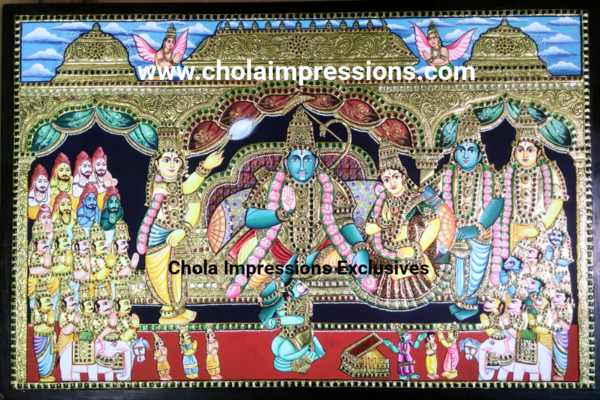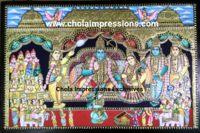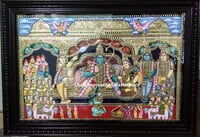 Ramar Pattabishegam - Chola Impressions Masterpiece Painting
Non-returnable
Select Size including the Frame
Ramar Pattabishegam Masterpice Tanjore painting created by Chola Impressions. The portrayal is in Landscape mode wherein Lord Ram sits in the centre on His majestic throne and his parivar, relatives gather around him during the coronation ceremony.
Product Details
Specifications
This is an masterpiece painting of Chola Impressions. An exclusive collection.
The portrayal is the most traditional form. Ram sitting on the throne in a majestic form with Sita Devi sitting adjacent to him. Lakshman holds the royal umbrella. Bharath, Shatrugnan stand respectfully and Lord Hanuman sitting on the ground holding the feet of Lord Ram with a lot of devotion.
Saptarishis are seen blessing the divine couple on successful return to Ayodhya. Rishi Narad being an ardent devotee of Lord Narayana wouldn't miss the great occasion and he promptly attends the ceremony of Narayna's avatar.
Other prominent members seen are Jambhavan who is a close friend of Lord Hanuman, Vibhishanan who is a devotee of Ram inspite of being a brother of Ravana. Ministers and Other local kings and are also present for the coronation ceremony. Vanara Sena who were very instrumental in rescuing Sita Devi from Ravan are also given a special place in the ceremony. It was a great occasion as the God in the form of man (an ideal man) takes back his rightful place in the kingdom.
Tanjore Paintings
Size including frame

As per your selection

Frame type

Mani/ Beaded

Front Cover

Unbreakable Acrylic

Foil

Authentic 22 carat gold foil

Finish Type

Traditional

Time to ship from order date

2-4 weeks Depending on the size selected