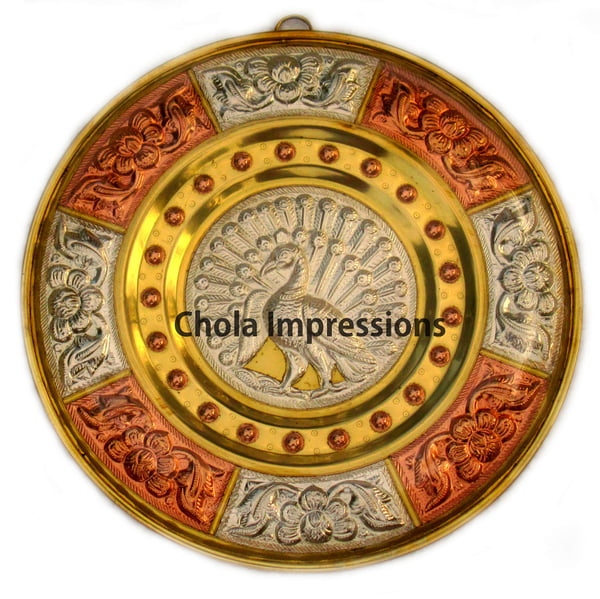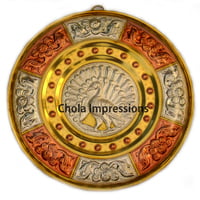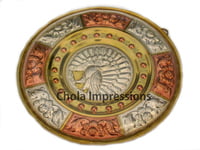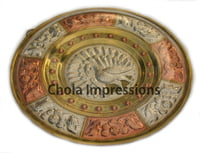 Peacock Tanjore Art Plate - Made of Silver, Brass & Copper
Non-returnable
Select Size of the Art Plate (Diameter)
Select if Wooden Stand/ Shield Holder Needed?
Tanjore Art Plate consists of three components: the base plate (Brass), a circular plate of metals with primary relief (Gods/ Goddess in Pure Silver), and the secondary relief (Flowery design made using Copper)
Product Details
Specifications
Thanjavur Art Plate was introduced by Rajah Serfoji-II during the Maratha rule in Thanjavur. It was made as an exclusive gift item by the artisans of Thanjavur at the suggestion of the King. Chola Impressions brings the Royal gift to your doorstep - completely handcrafted and shipped from Thanjavur.

For a Classic & Divine look for your walls & Positive vibrations around your home, this Tanjore Art plate is a perfect choice. It can be a sweet gift during occasions like Marriage, House warming ceremony & Birthday.

The Art shield is made in Tanjore by the local artisans predominantly from Vishwakarma community whose ancestors were the royal craftsmen of Rajah Serfoji.
Tanjore Art Plate
Diameter Size

As per your selection

Materials used to make the art item

Silver, Copper, Brass