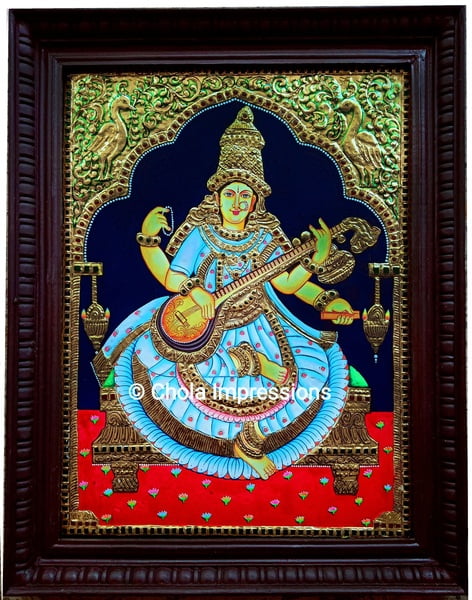 Saraswati Tanjore Painting - Exclusive collection
Non-returnable
Tags
tanjore painting,
saraswati
Select Size of the Painting including the frame
A Chola Impresssions Exclusive Painting of Saraswati Devi Tanjore Painting in white Sari
The uniqueness lies in Saraswati Herself. The kind of sketch is a slight deviation from the traditional Tanjore painiting. The face, eyes and other adorning ornaments are portrayed in Indonesia/ Thailand style
A similar painting was given to the Chinese Premier by our Prime Minister in 2019 during a function at Mahabalipuram as a cultural gift from India. This event speaks about the uniqueness and richness of the Painting
Product Details
Specifications
Welcome to our Exclusive section. The paintings that you see here are made only by Chola Impressions and not anywhere else. They are special in one way or the other. Owning these paintings will make you the possessor of the traditional, rich and rare paintings anyone will ever have!

All our handicrafts are made in Tanjore by the most skillful artisans in Thanjavur. Read why you should buy from Chola Impressions

Shipping is from Tanjore - we uphold the quality of each craft made
Buy from the top rated Art company making tanjore paintings
The only ISO certified Tanjore paintings company
Authenticity certificate

will be issued for the

22 Carat Gold Foil

used in the painting
Tanjore Paintings
Size including frame

As per your selection

Frame type

Mani/ Beaded

Front Cover

Unbreakable Acrylic Glass

Foil

Authentic 22 carat gold foil

Finish Type

Traditional

Time to ship from order date

2-4 weeks Depending on the size selected