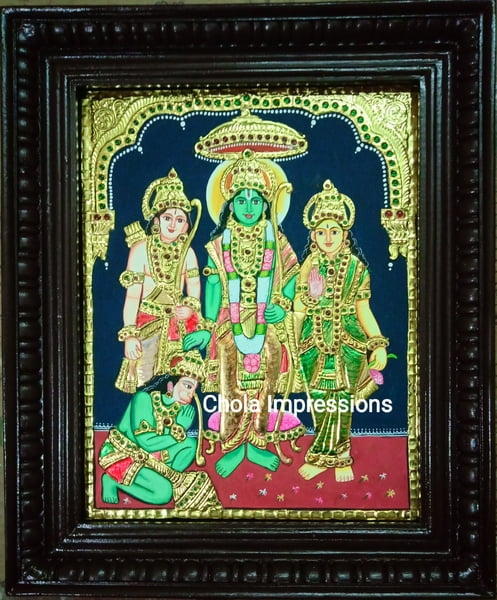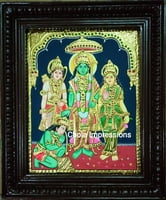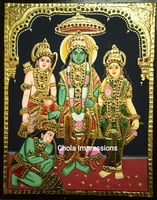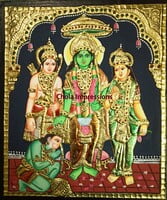 Kodanda Ramar(Ram Darbar) Tanjore Painting
Non-returnable
Select Size of the Painting including the frame
We make the most Authentic portrayal of Ramar Pattabisheskam in Tanjore style using lot of stones and authentic 22 Carat gold foil. All of our paintings are framed using Teak wood like how it was done traditionally
Lord Ram, Sita Devi, Lakshman and Lord Hanuman are portrayed in the most divine manner in this Tanjore Painting
Product Details
Specifications
Tanjore Paintings are made on canvas. Relief work is done on the canvas and glass beads are embedded giving the art work the 3D effect.
22 carat Gold foil is pasted on the designated areas to give the painting a rich look
All our handicrafts are made in Tanjore by the most skillful artisans
Shipping is from Tanjore - we uphold the quality of each craft made
Our handicrafts can't be matched by any other brand in terms of ingenuity, quality & price
All our customers who brought our products are highly satisfied - They are our brand ambassadors
We issue AUTHENTICITY CERTIFICATE for the 22 CARAT GOLD FOIL used in each of our Tanjore Painting.

The portrayal is the most traditional form. Ram sitting on the throne in a majestic form with Sita Devi sitting adjacent to him. Lakshman holds the royal umbrella. Bharath, Shatrugnan stand respectfully and Lord Hanuman sitting on the ground holding the feet of Lord Ram with a lot of devotion. Saptarishis are seen blessing the divine couple on successful return to Ayodhya. Rishi Narad being an ardent devotee of Lord Narayan wouldn't miss the great occasion and he promptly attends the ceremony of Narayna's avatar. Other prominent members seen are Jambhavan who is a close friend of Lord Hanuman, Vibhishanan who is a devotee of Ram inspite of being a brother of Ravana. Ministers and Other local kings and are also present for the coronation ceremony. Vanara Sena who were very instrumental in rescuing Sita Devi from Ravan are also given a special place in the ceremony. It was a great occasion as the God in the form of man (an ideal man) takes back his rightful place in the kingdom.
Tanjore Paintings
Size including frame

As per your selection

Frame type

Mani/ Beaded

Front Cover

Unbreakable Acrylic Glass

Foil

Authentic 22 carat gold foil

Time to ship from order date

Smaller sizes in 3 working days, Bigger sizes in 12 working days