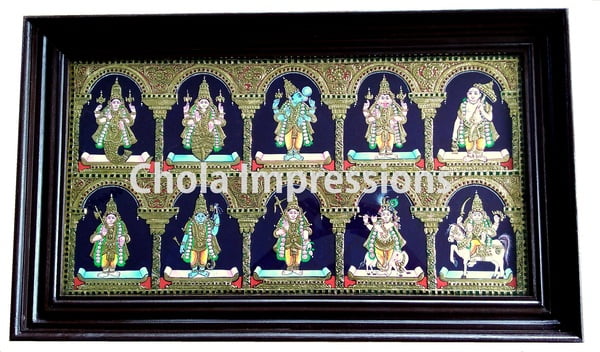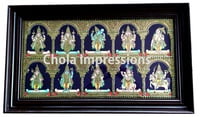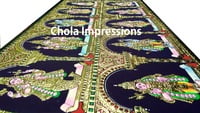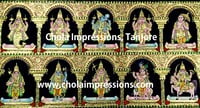 Dasavatharam Tanjore Painting - 3 ft x 1.75 ft - Exclusive Collection
Non-returnable
This DasavatharamTanjore Painting is made exclusively by Chola Impressions. The uniqueness lies in the design. Each avatar is depicted so clearly with all the associated characteristics - Macha, Koorma, Varaha, Narsimha, Vamana, Parashurama, Rama, Krishna, Balarama and Kalki.
Size is
3ft x 1.75ft including frame
Product Details
Specifications
Welcome to our Exclusive section. The paintings that you see here are made only by Chola Impressions and not anywhere else. They are special in one way or the other. Owning these paintings will make you the possessor of the traditional, rich and rare paintings anyone will ever have!

All our handicrafts are made in Tanjore by the most skillful artisans in Thanjavur. Read why you should buy from Chola Impressions

Shipping is from Tanjore - we uphold the quality of each craft made
Buy from the top rated Art company making tanjore paintings
The only ISO certified Tanjore paintings company
Authenticity certificate

will be issued for the

22 Carat Gold Foil

used in the painting
Tanjore Paintings
Frame type

Traditional

Front Cover

Unbreakable Acrylic

Foil

Authentic 22 carat gold foil

Finish Type

Traditional

Time to ship from order date

6-12 working days