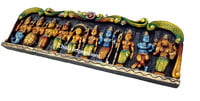 Dasavatharam Wooden Panel - Wall Mount
Non-returnable
Multi coloured hand-carved wall mount of Dasavatharam of size 3 ft (width) X 1 ft (height).

Thickness 2 inches. Made of Mahagony wood

Weight of the panel is approx 6 kg

This Dasavatharam Wall Panel is made exclusively by Chola Impressions. The uniqueness lies in the design. Each avatar is depicted so clearly with all the associated characteristics - Macha, Koorma, Varaha, Narsimha, Vamana, Parashurama, Rama, Krishna, Balarama and Kalki.

Product Details
Specifications
An Exclusive collection of Chola Impressions!

Shipping is from Tanjore - we uphold the quality of each craft made
Buy from the top rated Art company making tanjore paintings
General
Wood

Mahogany Wood

Dimensions approx (Height x Length x Breadth)

3 ft x 1 ft x 2 inches

Finish

Antique Type Colour Finish

Display type

Wall Mount

Approx weight of the Idol

7 kg

Carving

One Side carved, other side Flat - 180 Degree carving