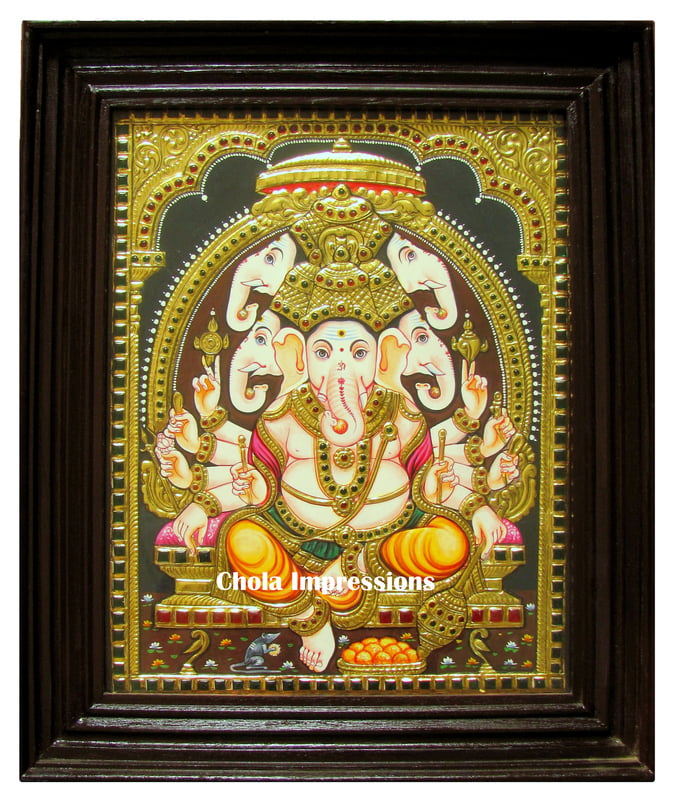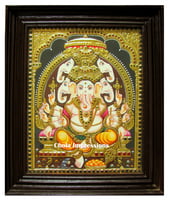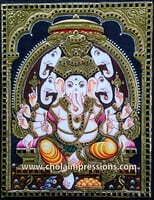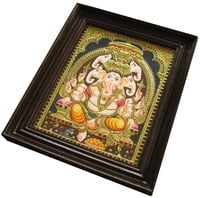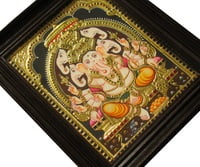 Panchmukh Ganesh (Panjamuga Vinayagar) Tanjore Painting
Non-returnable
Select Size of the Painting including the frame
An Exclusive collection of Chola Impressions - Lord Ganesh in Panchmukhi form in the typical Tanjore Style.
A must have painting if you are an ardent devotee of Lord Ganesh
As the intercessor of joy, success, peace, and prosperity, the Lord manifests in a novel form of 'Panchamukhi Vinayaka'- five faced Ganesha.
Each head of Panchamukhi Ganesh symbolises the Pancha Koshas or five sheaths in the subtle anatomy of human beings. They are the

Annamaya, Pranamaya, Manomaya, Vijnanamaya, and Anandamaya

. The five faces symbolise the five components that make for the

human physique

.
Worshipping this idol evokes the power to regulate these five senses which include renunciation, divine love, affection, authenticity and brave action.
Worshipping Panchamukhi Ganesha will help a devotee attain Anandamaya Kosha, or Sat-Chit-Ananda, the Pure Consciousness. It is believed that placing Panchamukhi Vinayaka towards the east in one's home or office would help to ward off evils and bring prosperity
Product Details
Specifications
An exclusive collection Lord Ganesh Panchmukh Tanjore Painting. It is a typical representation of Lord Ganesh sitting on this throne with an Umbrella on top. Rich stone work on the arch and throne adds beauty to the painting

22 Carat Original Gold Foil is used that will never fade for the generations to come. Certificate of Authenticity will be issued for the Gold foil used in the painting

Teak wood is used for the frame. Unbreakable fiber glass is used in the front to avoid any damage in transit or at home

Made in Tanjore by the Traditional artists dedicated to making Tanjore Paintings for more than two generations. Shipped from Tanjore
Ganesha's five heads represents:
Annamaya Kosha - This is the food sheath and corresponds roughly to the physical body.
Pranamaya Kosha - This is the vital energy, and it represents the subtle body, nadis, chakras and Kundalini.
Manomaya Kosha - This is the mental sheath which represents the mind and the organs of perception.
Vijnanamaya Kosha- This is the wisdom sheath which represents vijnana, or intellect, the talent which discriminates, determines or will.
Anandamaya Kosha - This is the cosmic bless sheath and represents the eternal centre of consciousness.
Tanjore Paintings
Size including frame

As per your selection

Front Cover

Unbreakable Acrylic Glass

Foil

Authentic 22 carat gold foil

Finish Type

Traditional

Time to ship from order date

Smaller sizes in 3 working days, Bigger sizes in 12 working days