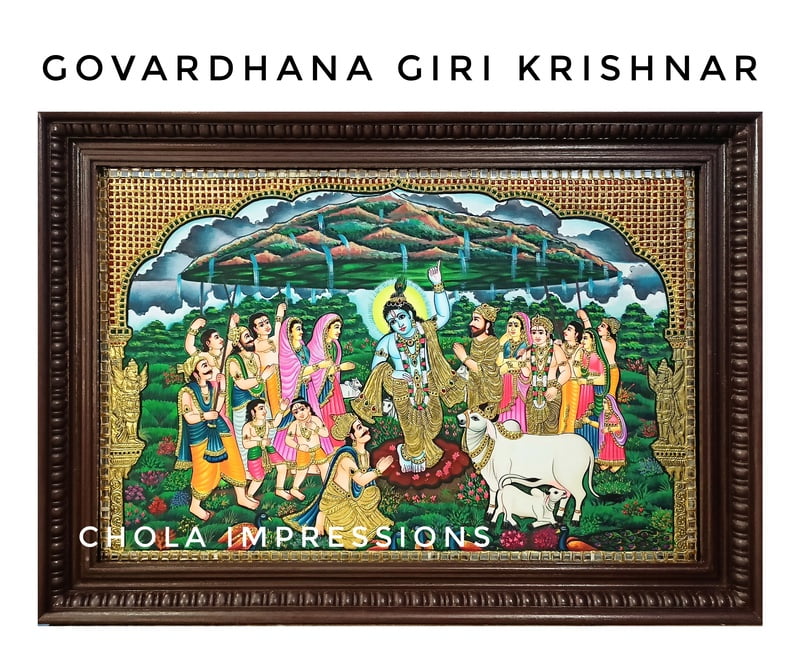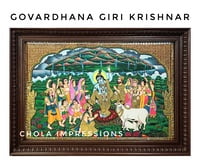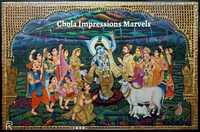 Govardhana Giri Krishna Tanjore Painting - Exclusive Collection
This is a Chola Impressions Masterpiece painting wherein 5 artists worked for

4 months

to create this painting. Ample amount of Gold Foil and Stones are used to make this Exclusive painting

This is a unique sketch of Lord Krishna lifting Govardhana Giri - a lot of stones are used in the arch above. Mirror cuttings are used for the border. Lord Garuda embossed and Gold foil gilded on either sides praying to Lord Krishna

Lord Krishna lifts the hill to save people from the wrath of Lord Indra, who subsequently surrenders to the true Lord that is Krishna

An Exclusive and unique painting that can be kept in the Pooja room or displayed in the hall to showcase the rich culture and devotion of the people of India
Product Details
Specifications
A divine Tanjore Painting of Lord Krishna Lifting the Govardhana Giri.
Colour schematics are made to resemble a

pralaya

, it is not a regular sunny day. The villagers also do their bit by supporting the hill with sticks, though it is resting steadily on little finger of Lord Krishna, similar to squirrels that helped construct the floating bridge to Lanka. Lord loves karma yogis, He only hates inaction.
All our handicrafts are made in Tanjore by the most skillful artisans in Thanjavur. Read why you should buy from Chola Impressions

Shipping is from Tanjore - we uphold the quality of each craft made
Buy from the top rated Art company making tanjore paintings
The only ISO certified Tanjore paintings company
Authenticity certificate

will be issued for the

22 Carat Gold Foil

used in the painting
Tanjore Paintings
Size including frame

3.4 ft x 2.4 ft

Frame type

Mani/ Beaded

Front Cover

Unbreakable Acrylic Glass

Foil

Authentic 22 carat gold foil

Finish Type

Traditional

Time to ship from order date

3-6 working days