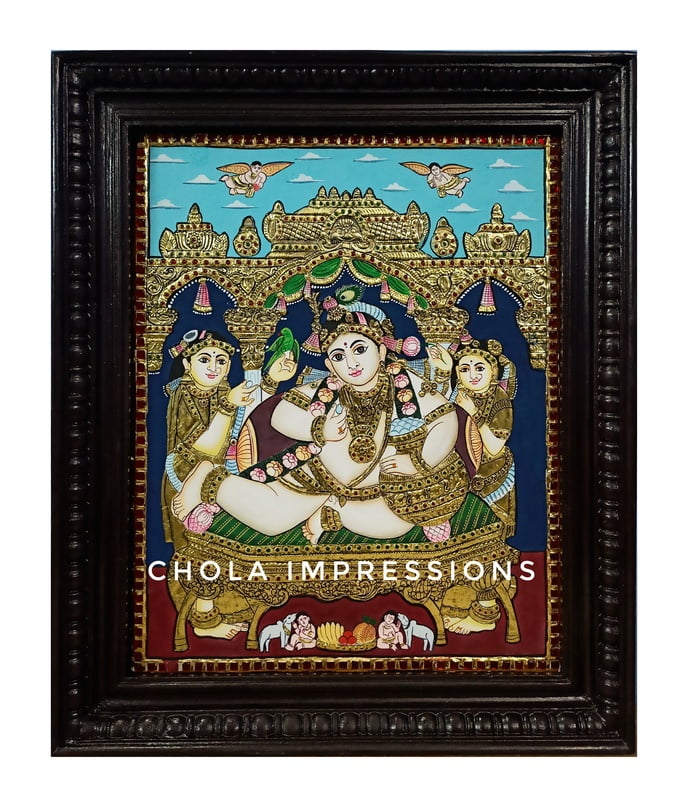 Butter Krishna - Yashodha Tanjore Painting with Mandap - 2 ft x 1.75 ft
Non-returnable
Butter Krishna - Yashodha Tanjore Painting with Mandap - 2 ft x 1.75 ft

One of the earliest Tanjore sketches. Traditional Tanjore sketches portray Gods and Goddesses sitting on a throne mostly. occasionally on Vahanam (animal/ bird mount).

Lord Krishna is plumpy in Tanjore paintings as He is associated with butter most of the times. Two women can be seen feeding Him butter with parrots as entertainment. One of which is Yashodha.



Product Details
Specifications
Tanjore Paintings are made on canvas pasted on wood. Relief work is done on the canvas and glass beads are embedded giving the art work the 3D effect.
22 Carat Gold foil is pasted on the designated areas to give the painting a rich look
Gold foil coated with glass beads that look like semi-precious stones and ornaments

All our handicrafts are made in Tanjore by the most skillful artisans

Quality is of paramount importance to us. We believe in professional handling of each order


Hence our handicrafts can't be matched by any other brand in terms of ingenuity & quality
Tanjore Paintings
Size including frame

24x20 inches

Frame type

Mani/ Beaded

Front Cover

Unbreakable Acrylic Glass

Foil

Authentic 22 carat gold foil

Finish Type

Traditional

Time to ship from order date

3-6 working days