Ramar Pattabishekam also known as Ram Darbar Tanjore Paintings - the story and various models
In addition to making Authentic and beautiful Tanjore paintings, this is our attempt to highlight to importance of each Tanjore painting and the story behind it. This is the classic portrayal of Indian God Sri Ram's victory over the Demon King Raavan. In this article, we will discuss about the Ramar Pattabishegam painting, the characters in it and the story behind it.
Small Sized Paintings - Kodanda Ramar/ Ram Parivar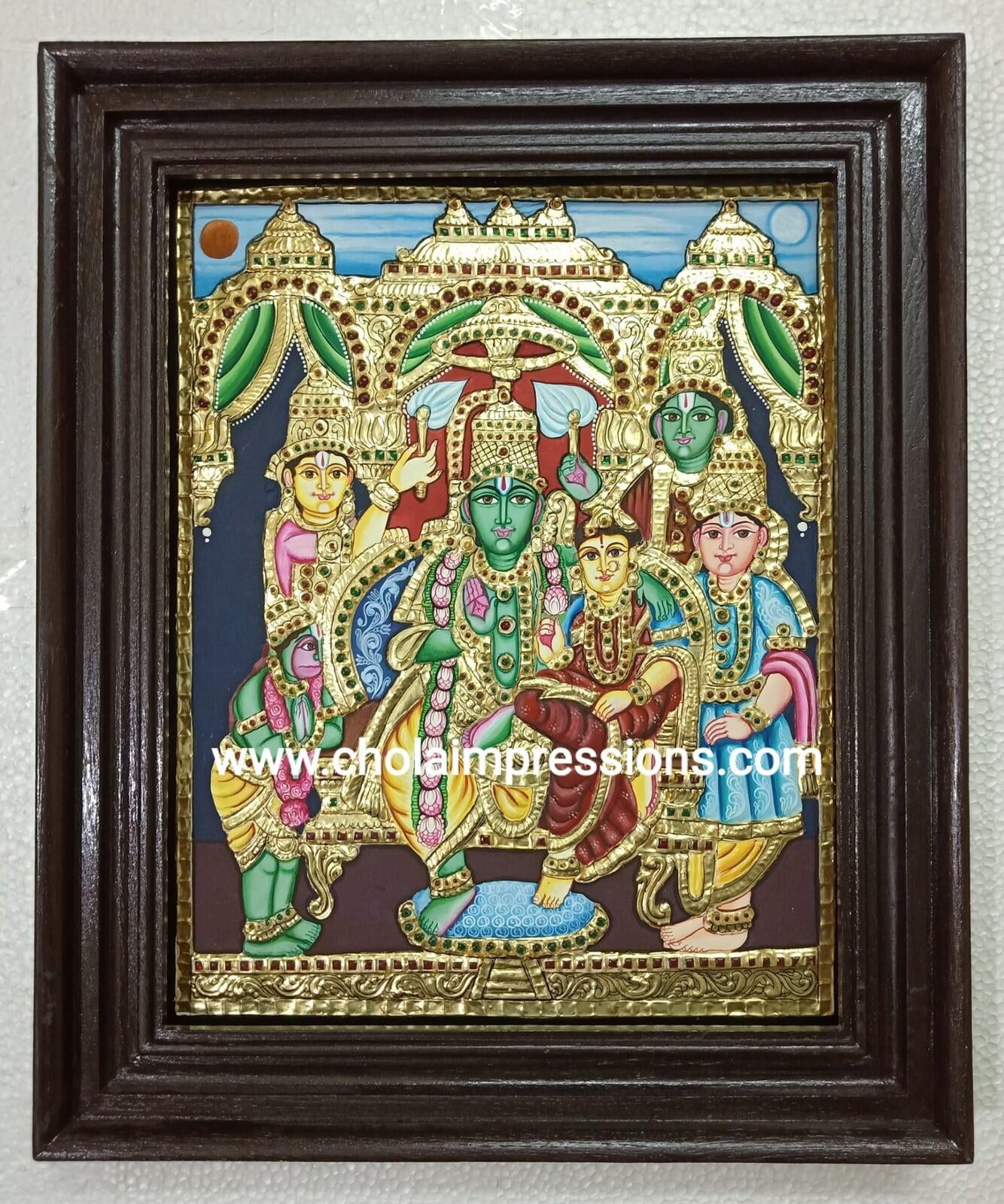 Ramar pattabishegam 18 inches x 15 inches or Bigger
In its simplest form, Ramar Pattabishekam has ony 6 characters.

This painting is sometimes called as Kodanda Ramar Painting also.

It has Lord Ram, Lakshman, Lord Hanuman, Sita Devi, Bharath, Shatrugnan.

This painting is made in Antique model/ antique finish. Antique finish has paintings done in style used in olden days. You can notice the difference in God's face and the colours used.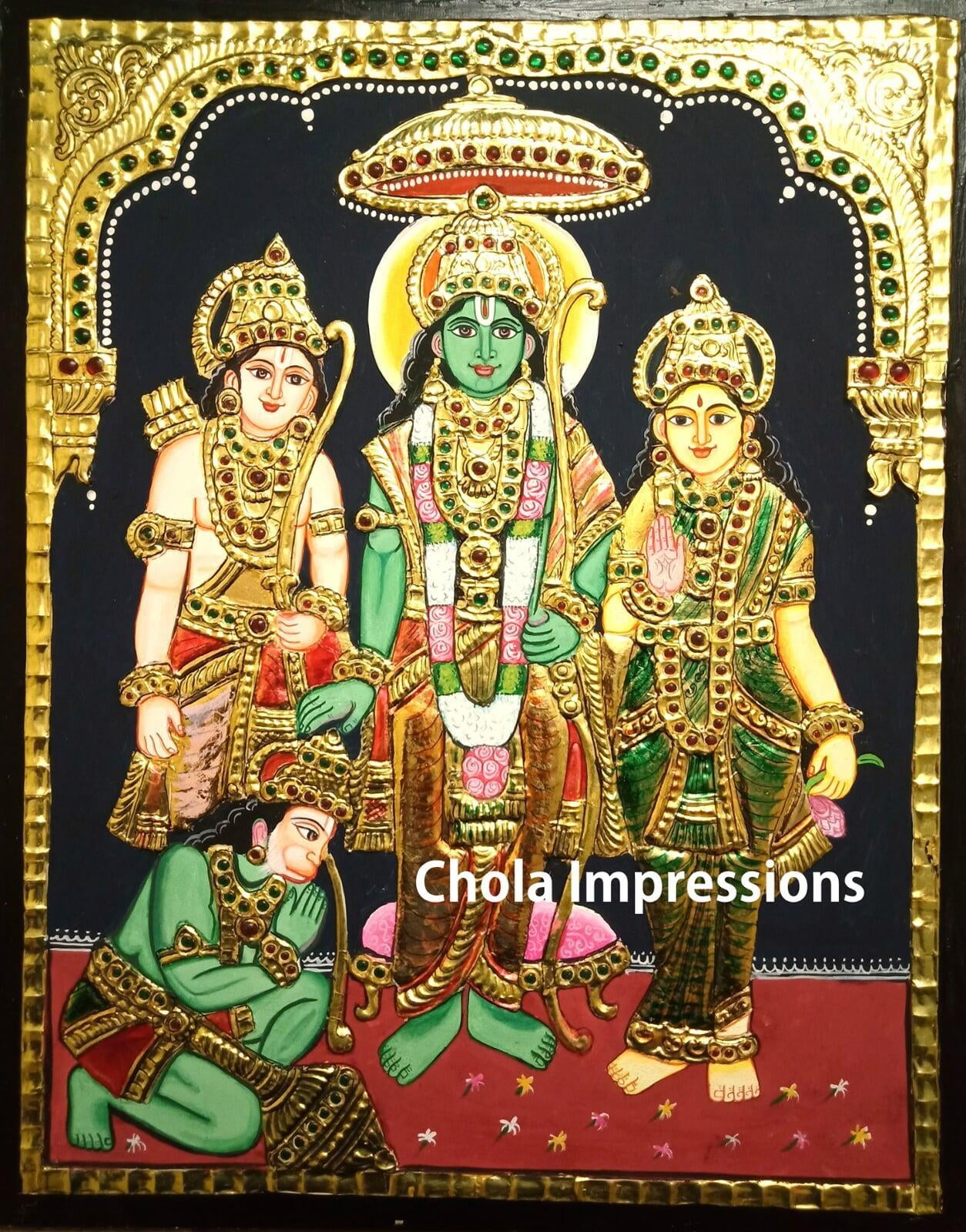 Ramar pattabishegam 18 inches x 15 inches or Bigger
This painting is similar as above painting but is made in calendar model

Anything that is not antique or traditional and modified to contemporary style is generally referred as calendar model

When your requirement of Ram Darbar painting is of smaller sizes than 2 ft, this model is preferred. The size of these two types start from 15 inches x 13 inches including frame.

There is no maximum size limit. The same model can be made in 4 ft or even 5 ft size with richer additions to the arch, umbrella, jewels and clothes
Medium Sized Ramar Pattabishekam Paintings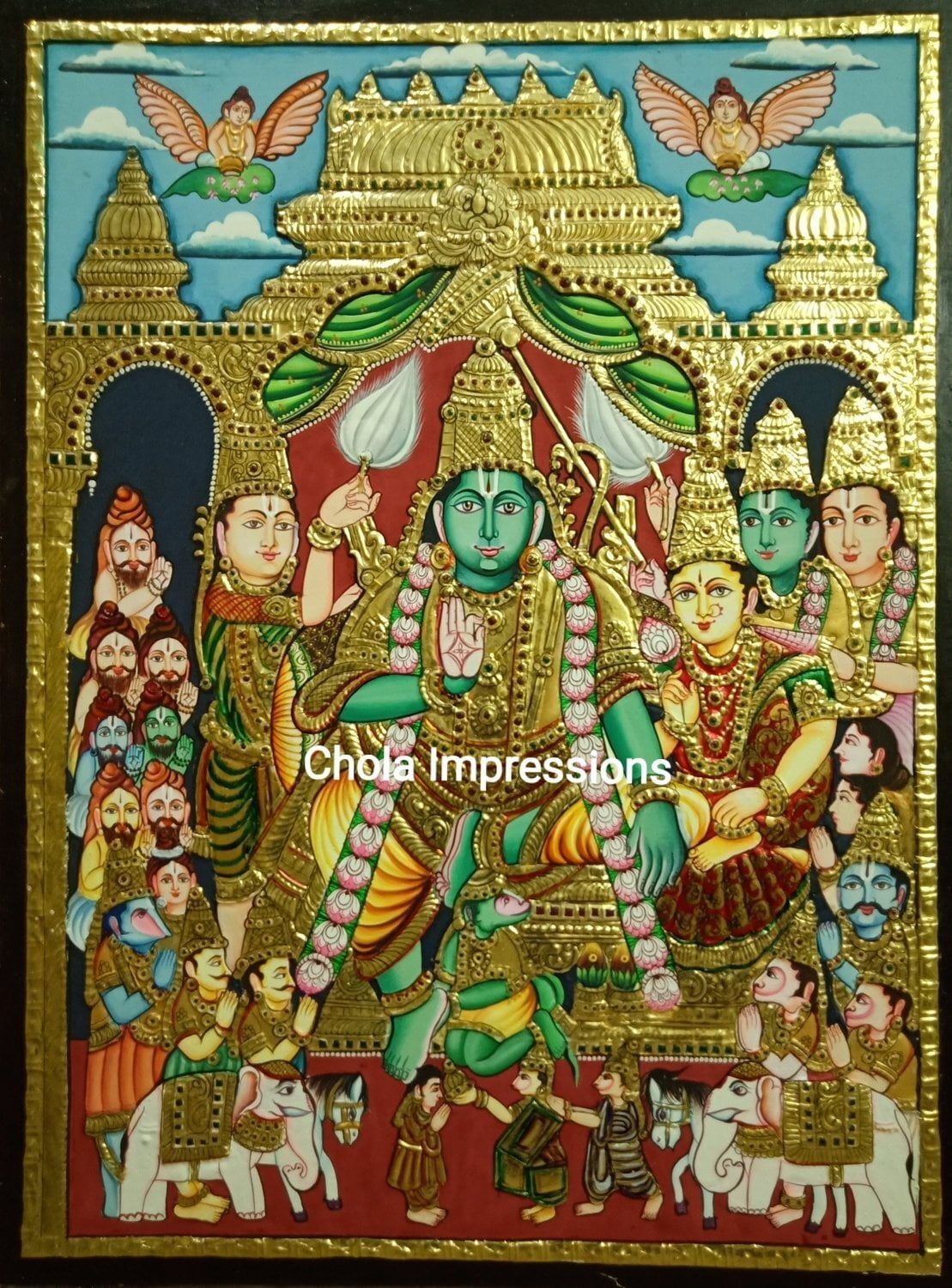 Ramar pattabishegam 2.3 ft x 1.8 ft or Bigger

This portrayal is the most traditional and common form in Tanjore Paintings.


Lord

Ram

sitting on the throne in a majestic form with

Sita

Devi sitting adjacent to him.

Lakshman

holds the royal umbrella.

Bharath

,

Shatrugnan

stand respectfully and Lord

Hanuman

sitting on the ground holding the feet of Lord Ram with a lot of devotion.




Saptarishis

are seen blessing the divine couple on successful return to Ayodhya. Rishi

Narad

being an ardent devotee of Lord Narayan wouldn't miss the great occasion and he promptly attends the ceremony of Narayna's avatar.


Other prominent members seen are

Jambhavan

who is a close friend of Lord Hanuman,

Vibhishanan

Ministers and Other local kings and are also present for the coronation ceremony. Vanara Sena who were very instrumental in rescuing Sita Devi from Ravan are also given a special place in the ceremony. It was a great occasion as the God in the form of man (an ideal man) takes back his rightful place in the kingdom.
3 ft x 2 ft Ramar Pattabishekam in Landscape Orientation - Chola Impressions Masterpiece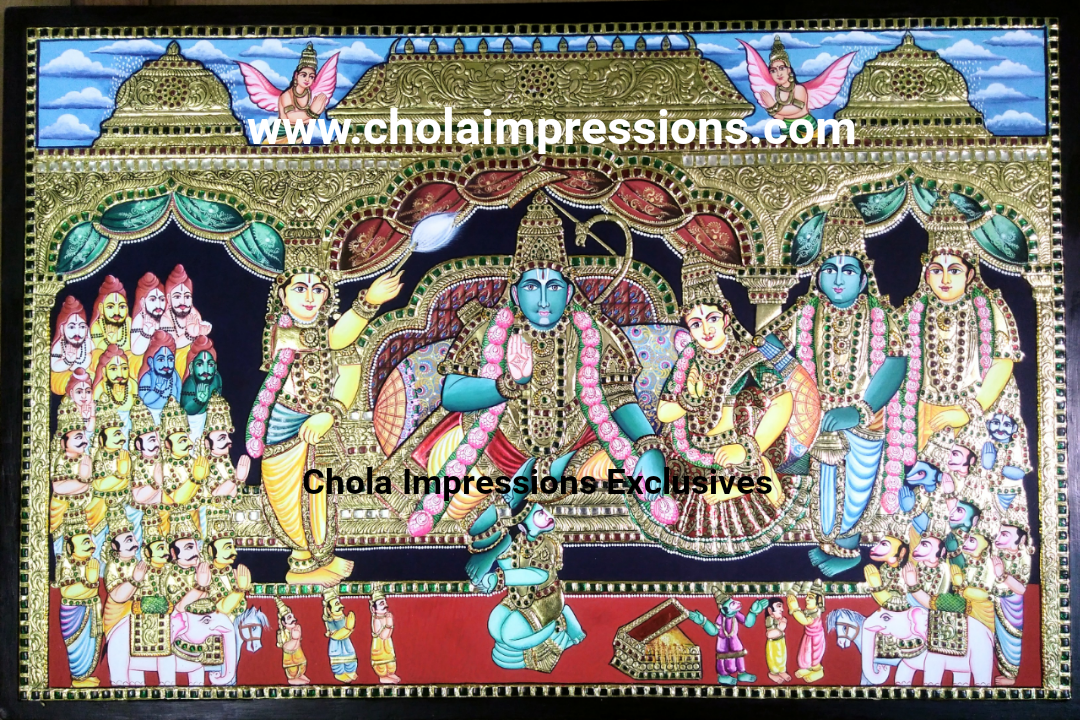 This Painting is our masterpiece. The sketch was developed by us to show the coronation ceremony is the most magnificent way


It has all the characters in the painting we discussed and also includes more local Kings and Vanaras attending the ceremony.

It also shows the Mandap above and the Simhasana (throne) of Lord Ram in the most magnificent manner

Likewise Sita Devi, Laxman, Bharat, Shatrugnan are also portrayed fully

A must have painting if you are a devotee of Lord Ram or an Indian Art connoiseur
If you would like to order any of these paintings, you can click on the respective images or the below button to place the orders or alternatively you may Conact us for any custom Requirements. The paintings are made in the most traditional and authentic methods in Tanjore with the most experienced artists who have dedicated their lives to Tanjore Painitngs. Certificate of authenticity is issued for the 22 carat gold foil used in each painting you see in our website