20 different artists from Thanjavur, Pudukkottai and Thiruvarur worked together for 18 days tirelessly to make Eight Lakshmi Paintings of size 11 feet each.
A feat that was never achieved before. No one thought it was even remotely possible. A 11 ft painting normally takes 3 months to make. But at Chola Impressions, we made 8 such paintings in just 18 days. Now we leave it to you to decide whether it is a record or not. We have uploaded the pictures of all Lakshmis below. We are sure it will be a feast for your eyes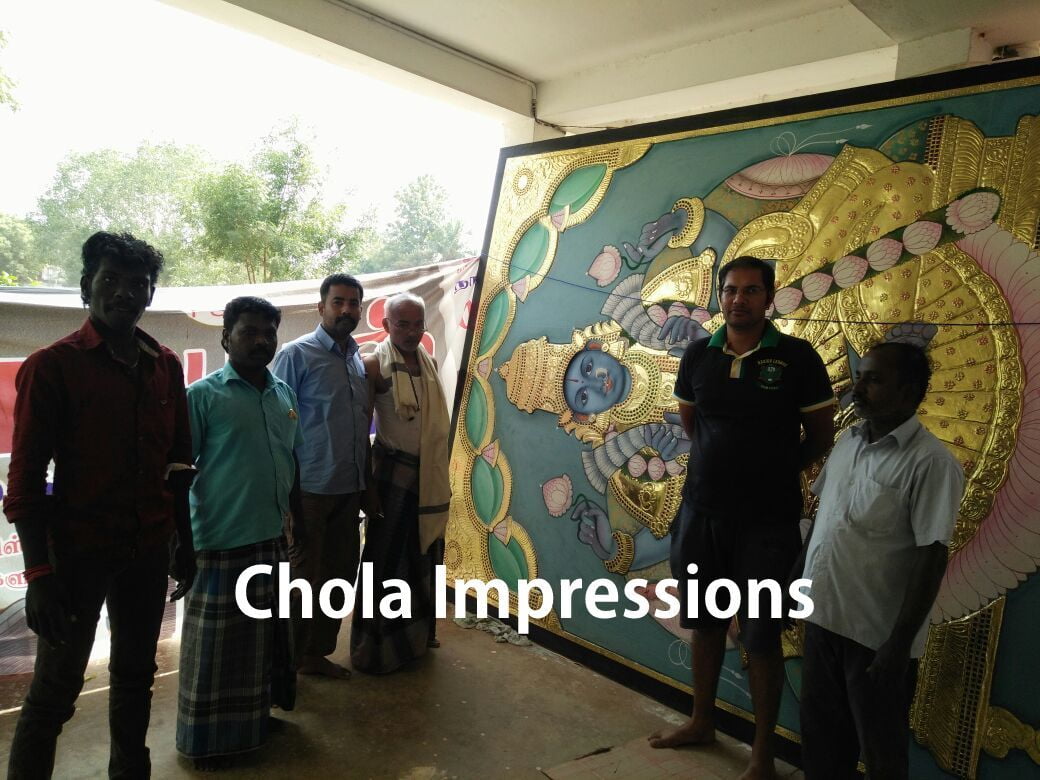 These are the artists who have put hardwork for 18 days straight. A highly committed team who worked day in and day out to deliver the paintings on time.
Lot of changes came in between, yet we managed to complete everything on time as per the expectations
Even worse, it was the time of demonetization and supplies were stuck at various places. The team had scrambled to gather all possible resources without complaining
We even innovated few processes which were never performed in Tanjore Paintings
Paintings were made for a high profile marriage of a business tycoon family based in Hyderabad, while Mr. Sandeep Khosla was overseeing the project.
The quality of paintings was commended by Mr. Khosla. He also appreciated us for the timely delivery of the paintings in such a short notice

The wedding function at Hyderabad - Noted Celebrities like Rajinikanth, Allu Arjun, Nagarjuna, Amala attended the marriage ceremony
Super Star Rajinikanth with the Bride & Groom - Keshav Reddy wed Veena Tera
Nagarjuna, Amala and Akhil
Allu Arjun, Suneil Shetty
Bride with her friends - Dhairya Lakshmi Tanjore Painting that we did can be seen in the back drop
Our Founder with our creation
Sandeep Khosla & others attending the ceremony
The marriage set up had 100 ft Tanjore Paintings that made the backdrop in the stage where the marriage ceremony is performed. Artists from all over India - Rajasthan, Tamil Nadu, Mumbai, Gujarat, West Bengal, Uttar Pradesh worked for nearly 10 days to create this set up on an emptry ground adjacent to Hotel Novotel in Hyderabad.
We wish the bride and the groom a very happy, prosperous and healthy life blessed by the Ashtalakshmis Themselves!